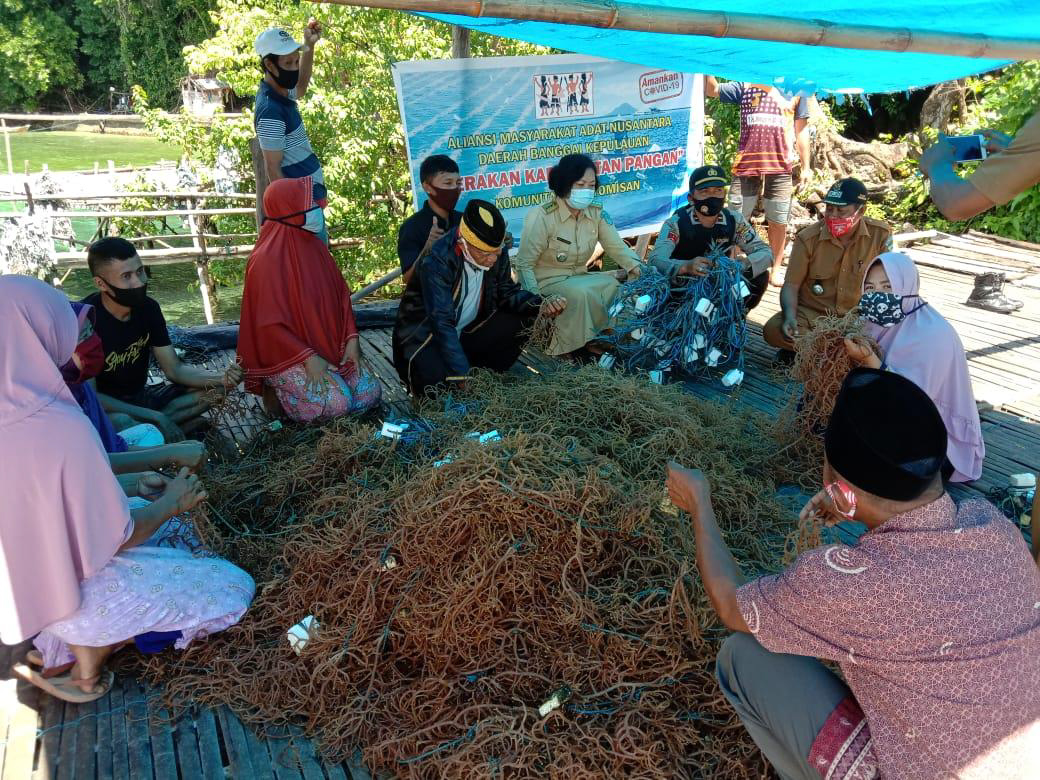 16 August 2022
A Story from Montomisan: Going to Sea for the Village, Farming for the Home
---
By Munira and Fadiyah Alaidrus
My name is Munira but people call me Mira. I'm a child, a mother, a wife, and a kindergarten teacher. When writing this story, I'm pregnant with my second child and due in early September 2021.
As I was pregnant during the pandemic, financial problems have always been a source of anxiety. I often feel scared when I imagine there is no food for my children, especially when I have to stop working for a while because my due date is approaching.
Not only my family, but financial problems are also faced by most of the people here in Montomisan, the oldest village in the Banggai Islands Coast, Central Sulawesi. Our village head, Tole Latani, also conveyed the same thing.
"Well, the impact of the pandemic is quite large. The impact, in terms of economic involvement, is disrupting the economy as well. In previous years, when Covid had not yet entered our area, seaweed marketing was extensive, even buyers from abroad could enter. However, with Covid, the price of seaweed slightly decreased," Tole said when I met him around June 2021.
To be honest, hoping to get help from the government seems pointless. Hence, during the pandemic we are mostly working hard on our own.
Majority of the Indigenous Peoples of Montomisan work as fishermen and seaweed farmers. Seaweed is one of the commodities that drive our economy. Seaweed entered Montomisan in 1989 during the Soeharto era.
Suludani, a respected figure in our Indigenous community, was one of the people who saw how the seaweed started to enter Montomisan and told me that at first only a few people tried. They also need to get the seeds from Bangkurung Island which is in the south of Montomisan.
"It is still relatively rare and many of us still have doubts about seaweed because we are still new to it. How come? At that time, there were no transport ships to the city and there were no buyers," Suludani said.
Seaweed only began to be widely cultivated in Montomisan after 1990, followed by the development of equipment and facilities for the cultivation. No one thought that the seaweed cultivation would be growing rapidly, and even managed to become the largest source of income for the Indigenous Peoples of Montomisan.
Before cultivating seaweed, we used to plant yams, taro, and other root vegetables for our daily staple food. If there are excess yams, we usually exchange them for seafood, such as dried fish, from the fishermen.
However, since around 2000, the tradition of exchanging food is no longer practiced. Staple foods are becoming increasingly diverse, ranging from rice, yams, and cassava. Processed grated and steamed cassava is the most consumed additional food by the community besides sweet potatoes.
Until now, most of us, especially Indigenous women, continue farming so that we still can eat in case seaweed harvest fails.
Economic Milestone
Talking about the development of seaweed in Montomisan, it cannot be separated from the role of Indigenous women. About 70 percent of the existing seaweed management is carried out by Indigenous women. Many of us do various jobs, such as cleaning the ropes before they are used for sailing, fetching clean water, and so on. Meanwhile, the men set sail to sow the seaweed seeds.
However, there are some women who do all the seaweed management processes alone, one of them is 58-year-old Haji Jia. I usually call her Tata Haji. She and her parents were born and raised in Montomisan. Tata Haji has started working to develop seaweed cultivation since 1999 when she was 36 years old.
Describing the division of labor between men and women in Montomisan, Tata Haji said, "If it's like me, yes, I do all the work. However, for those who have husbands, men only take the seeds, while women cook, take care of, and tie the rope [for seaweed]. Moreover, if there are children, women will take care of the children's school."
Tata Haji is one of the toughest women I admire in this village. She lived alone and worked hard until she was able to perform Hajj. Tata Haji became the first woman from Montomisan Village to do so. And that prompted me to talk further with Tata Haji.
If it's in season or the weather is favorable, Tata Haji can sell around 800 kilograms to one-ton seaweeds per season. At that time, she sold it at 4,500 rupiah (31 US cents) per kg.
The price of seaweed in Montomisan fluctuates, but usually it keeps going up. When the seaweed first entered Montomisan, the price was at around 3,000 rupiah per kg. However, prices continued to rise and reached the highest point in 2018, which was at 21,000 rupiah per kg. After that, the price dropped to around 14,000 rupiah per kg.
Tata Haji said that all the money she earned from harvesting seaweed would be saved to make ends meet for several months.
"If there is an excess, I save it for the Hajj," she added.
Generally, women will sail to the sea during harvest time to collect seaweed. Then, we will dry it on the ground. After drying, we carry them to be weighed and brought to the middleman to be sold. The middleman's place is down the hill, around one kilometer from the residential area. Usually, in one trip, these women will carry around 25-30 kg of seaweed. They will go back and forth up and down the hill from harvesting to selling seaweed.
When the weather is favorable, we can harvest two to three times a year, but if it's the opposite we won't be able to harvest throughout the year and suffer losses as has been the case since 2018.
If you think about it, seaweed is very important for Indigenous women and Indigenous Peoples of Montomisan. Quoting one of my friends, Arbia, 37, "If it wasn't for (seaweed), yes, the people in Montomisan Village might not be able to pay for their children's schools, they couldn't have a house."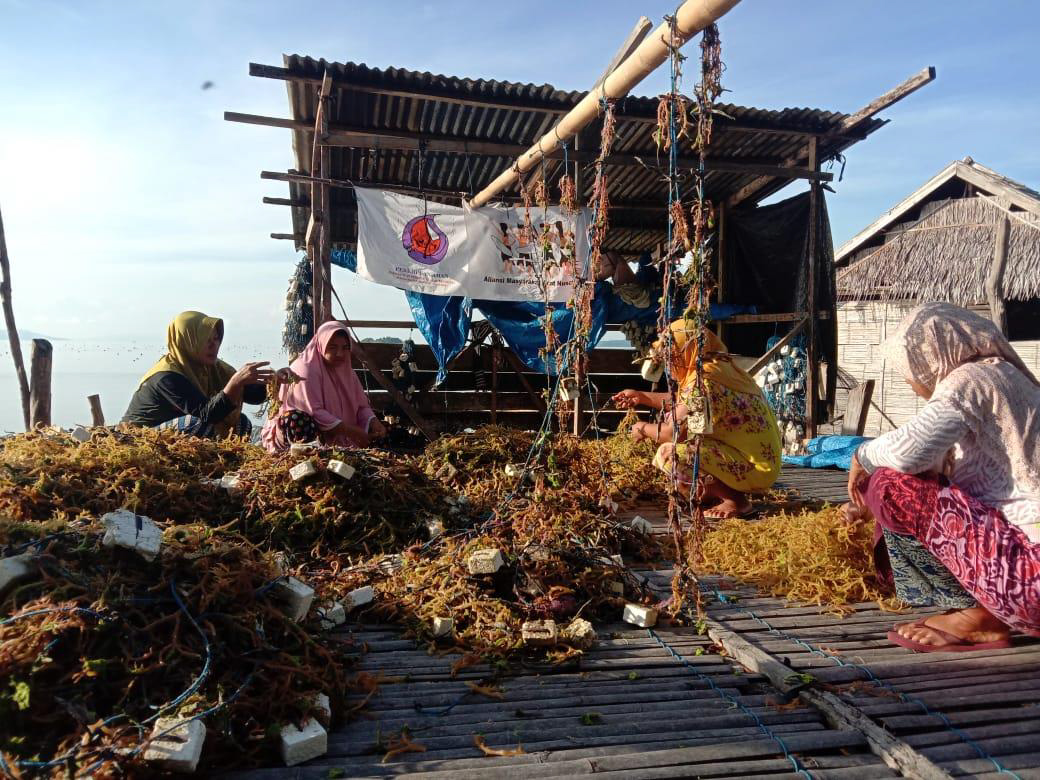 Indigenous women harvest seaweed. Photo source: AMAN documentation.
From the Kitchen to the Sea
One afternoon in early July 2021, Arbia, Hasrawati and I gathered at Hasrawati's aunt's house. At first, we gathered to cook sweet potato and fish gravy and discussed seaweed. However, because there were no fish, we only ate sweet potatoes and noodle soup. After eating, we shared our experiences about seaweed management in Montomisan.
Hasrawati, who is a mother of three, has been cultivating seaweed for 11 years. She was born and grew up in Montomisan, while her husband migrated to work in Morowali, Central Sulawesi.
She has been working since she graduated from elementary school. She used to work for a palm oil company as a daily laborer with a wage of 7,500 rupiah per day. Then, she migrated to Makassar, South Sulawesi and Central Kalimantan to become a domestic worker.
"Met my husband when I work [outside Montomisan]. Then get married at the age of 20," she said.
When Hasnawati returned to the village, she was interested in cultivating seaweed. She learned the method by observing her fellow Indigenous women.
"I rowed [my boat] into the middle of the sea alone. It's hot, it rains all day, sometimes it can take days," she said.
Hasrawati starts her day by waking up at 04.30 a.m. She then cleans the house, prepares breakfast, and offers morning prayer. During the dry season, on the sidelines of those morning routines, she would go down the hill for about one kilometer to get water for cooking, bathing, and so on.
When her children have left for school, Hasrawati will cook. "So, when they come home from school, the food is ready."
Around 8 a.m., Hasrawati will go down the hill again to go to sea and cultivate seaweed. She usually spends between eight to ten hours a day on the sea depending on the number of seeds she planted. On the way to the sea, Hasrawati also brings dirty clothes to be washed in the water reservoir near the beach if she manages to go back to the shore before nightfall.
"Coming home tired after [planting] seaweed, you still need to get [clean] water, wash the dishes, cook, especially when the lights go out. Not to mention if there is no kerosene," Hasrawati said, laughing.
Listening to Hasrawati's daily routine, I spontaneously said, "It's tiring, yeah, to be a woman."
"So tired, O God," she said, sighing. "But I'm getting used to it."
Limited access to water is a problem that gives Indigenous women a massive burden. In the dry season, we have to walk up and down the hill to get clean water.
"If we have water, it won't be too tiring to carry things on the shoulder. That's the number one priority for Indigenous women in Montomisan. So, if you come home tired, you can immediately cook and so on. There is no need to go back and forth to get water," Hasrawati said.
"The number one need is water."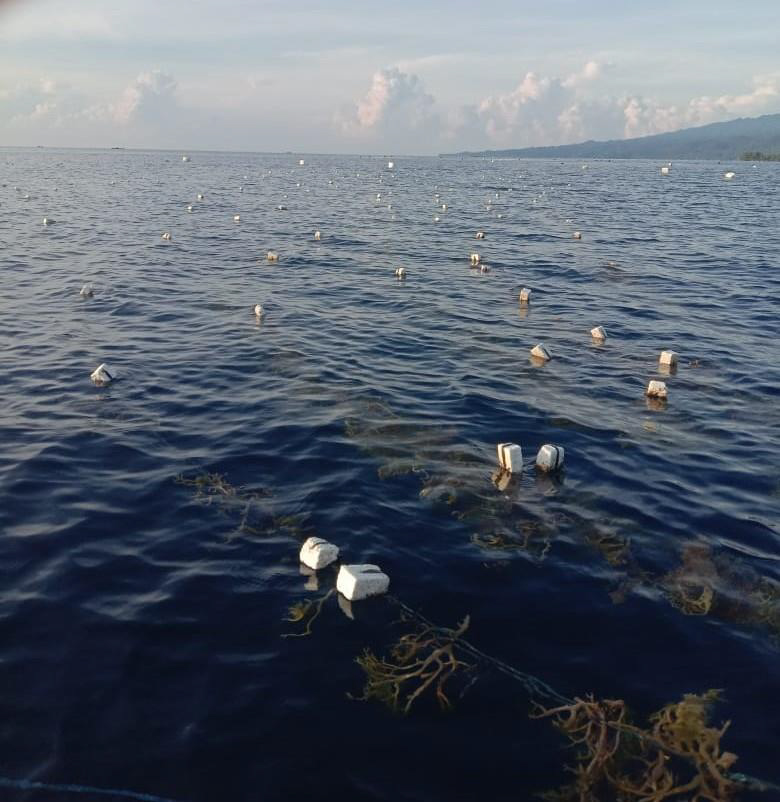 Seaweed plantation. Photo source: AMAN documentation.
Damaged by Pests and Weather
Hasrawati's exhaustion over the past few years is not worth the gain. She suffered losses compared to previous years when she reaped the profits from seaweed.
"In one harvest, you can get up to 20 million rupiah or more, for almost one ton. However, that was three years ago, in 2018. So far, there have been no results," she said.
Harvest failure can occur due to several factors. First is moss that becomes pests that affects seaweed quality. However, mild moss pests can still be overcome by spreading out the affected seaweeds in the areas near the residents' huts. Later, fish will eat the mosses. When the mosses have significantly reduced, the seaweeds will be returned to the farms.
The second factor, which is the most difficult to control, is the weather. Climate change makes the weather unpredictable which greatly affects seaweed farming in Montomisan.
"If the wind is too strong, a lot of seaweeds will fall and the fish will eat them. If it rains too much, they will fall and break too. So, it will be just right in normal weather with light breeze, not raining too much, not too hot. If the weather is too hot, it can also cause problems," Hasrawati said.
Extreme and unpredictable weather such as heavy rains or extreme dryness, affects our income. As a result, in recent years, our income has plunged. Moreover, with the pandemic conditions, it is increasingly difficult for us to go anywhere to get other income.
"Three years stuck and no capital," Hasrawati said.
"If we have capital, it might work. Then getting money from outside for capital is also difficult because of Covid."
Not only Hasrawati, Arbia also conveyed similar problems. "Now the problem is that we have no capital," she said.
Unlike Hasrawati, Arbia lives alone in Montomisan. She and her parents were originally from Montomisan. Arbia has spent around 20 years cultivating seaweed since she was 17 years old.
"Now there is no seaweed. Where do you get money? If men work in construction [as day laborers], then women work in the market or where?"
Arbia finds it increasingly difficult to earn money during the pandemic with seaweed farming that have continued to fail for the past few years. Arbia's condition clearly illustrates the problems we faced at Montomisan. Currently, Arbia is trying to find other ways to earn money, one of them is by becoming a daily laborer in Banggai Regency to clean plantations. Her fee ranges from 50,000 rupiah to 70,000 rupiah per day. In addition, Arbia also keeps farming.
"Farming is a routine, even if there is no money. However, the important thing is there is food, there are sweet potatoes," Arbia said.
Indigenous Women's Solidarity
I'm not originally from Montomisan. I have only lived here since 2019. My hometown is about 75 kilometers from Montomisan. I moved here following my husband. It is my home now.
When I moved to Montomisan, I felt very welcomed by the Indigenous Peoples, especially the Indigenous women. I learned a lot about seaweed cultivation from them. Sometimes, they also gave me seaweed seeds. When I talked to Arbia, I gained a better understanding of why the relationship between Indigenous women could be so close.
"If I don't have [seeds], then if someone has them, it will be easy. We can give each other seeds. We're helping each other. It's the same for me, for example, if someone doesn't have seeds and I have some, I or another friend will give them," Arbia said.
We, the Indigenous women in Montomisan often see each other or hang out together. Usually, we exchange ideas and experiences related to seaweed management, including where to get good seeds, how the weather has been lately, the tricks to harvest seaweeds successfully, and how to get money if the harvest of seaweeds fails.
My conversation with Arbia and Hasrawati that day had lasted for several hours. After talking and exchanging ideas with them, I realized that Indigenous women are extraordinarily strong, agile, and diligent. We spend a lot of time working in the kitchen, on the farm and on the sea. The pulse of life is actually in our hands.
***
The writer is a member of the Indigenous Peoples of Montomisan. This article is part of stories written for Kisah dari Kampung (Stories from Villages) - a book writing movement initiated by AMAN to present profiles from various villages across the archipelago. The stories are written together by AMAN cadres and journalists.
---
---