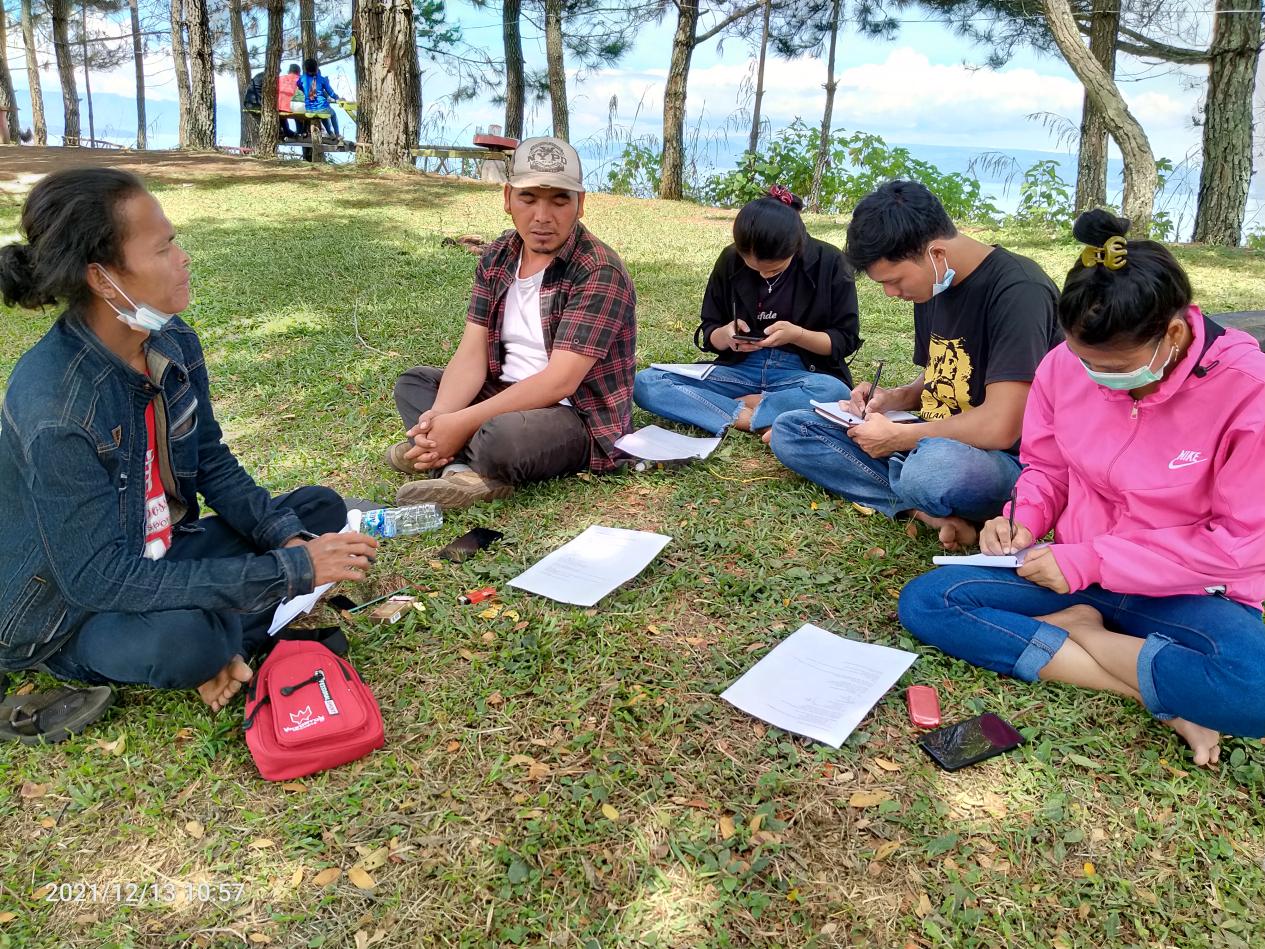 Indigenous Peoples of Tano Batak Study Journalism on Lake Toba's Shores
17 December 2021 Berita
---
By Apriadi Gunawan
As many as 15 people from various Indigenous communities and members of the Tano Batak chapter of Indigenous Peoples Alliance of the Archipelago (AMAN) participated in the "Training for Capacity Building for Indigenous Peoples Journalism" at Wisma Tarabunga in Tarabunga Village, Toba Samosir Regency, North Sumatra.
The training was held for two days from Monday (12/13/2021) in collaboration with AMAN and Tempo Witness. Dini Pramita, one of the trainers from Tempo Witness, said the training was aimed at building an information communication system. She added that all participants who took part in the training would be information agents, therefore, it is necessary to give them some knowledge and self-safety guidelines.
"It is hoped that the information agents formed through this training will be able to sort out which are facts, opinions, primary data and secondary data. When should we use secondary data and how do we protect ourselves from the information we share," Dini said while giving training materials on Monday.
The threat to press freedom, she continued, should be watched out for. Even though our intentions as journalists are good, which is to share information, we are overshadowed by the Information and Electronic Transaction Law and the Criminal Code, Dini said. Hence, through the training, the participants will be taught skills and given information.
When participants send information in the form of facts through Tempo Witness, it is what we call "people's journalism", Dini added.
"Our goal to build an information communication system is to build people's journalism. Not to be a professional journalist, but later to become an information agent who plays a very big role in people's lives," she said.
Maruli Simanjuntak, one of the participants, said he was grateful to be able to take part in the journalism training. Even though he was not trained to become a professional journalist, Maruli said he was happy because at least he knew how to write news according to journalistic rules.
"This training is very useful for us, especially for me, who is involved in the activities of the Indigenous communities. We can report a lot of things, especially regarding the struggle of the Indigenous Peoples," Maruli said. He was recently beaten during a protest demanding the closure of pulp producing company PT Toba Pulp Lestari (TPL) at the Ministry of Environment and Forestry office in Jakarta.
Samuel R. Purba from AMAN Tano Batak said all participants who took part in the journalism training came from the Indigenous communities in Batak Customary Area. They have different backgrounds, such as students, activists, and others.
Samuel hoped that the participants, who mostly are youngsters, could be more critical in writing news in their respective regions. He said the focus of the news that the participants wanted to write would be on the demands of the Indigenous Peoples who want the PT Toba Pulp Lestari to be closed and related to the activities of Indigenous Peoples in AMAN.
"We hope that this journalistic training can produce reliable journalists, who will also be part of our struggle against the TPL," Samuel said, adding that the training was held at Lake Toba to make sure the participants wouldn't get bored.
"We want to integrate the concept of learning while traveling so that the participants stay fresh," Samuel said.
***
Tag :
PW AMAN Tano Batak
Tempo Witness
Jurnalis Rakyat